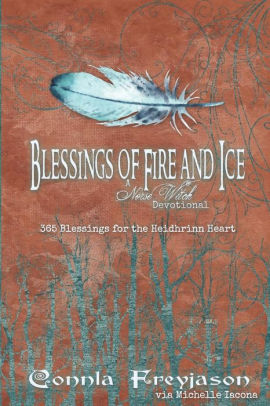 Blessings of Fire and Ice
365 Blessings for the Heidhrinn Heart! Have you longed to draw closer to the your Gods? Blessings of Fire and Ice is a collection of original blessings, incantations, and prayers by Connla Freyjason, designed to "jump-start" your daily devotional practice.
Travel the many-colored path of the Heidhrinn Wheel of the Year, and draw closer not only to the Gods, but also the Landvaettir, Husvaettir, and other Kind Wights waiting to join you on your personal spiritual journey. Bless your home at Winternights and Sigrblot; offer blot to Freyr, Odin, and the Wild Hunt. Celebrate Yule with the Disir and Alfar. Invite the power of the Runes into your life. Awaken the magick that lies within your own Heidhrinn Heart.
Raw and beautifully written, these devotional blessings will inspire your journey and encourage your practice in every season. Come, take the first step along the Path of the Norse Witch, and find strength, beauty, love, peace, and self-empowerment as you claim your place among the Blessed.
406 pages
---
---
More from this collection