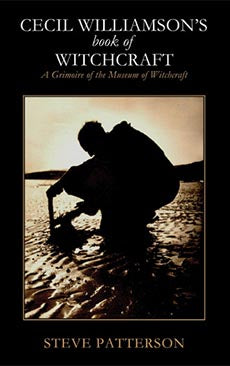 Cecil Williamson's Book of Witchcraft : A Grimoire of The Museum of Witchcraft
In 1996, whilst helping the then new owner Graham King in refurbishments to the Museum of Witchcraft and Magic, Steve Patterson happened upon a handwritten manuscript entitled simply 'Witchcraft' and containing an intriguing potpourri of esoterica from the hand of the Museum's founder; Cecil Williamson.
It is this manuscript which provides the basis for Steve's book which includes a full annotated transcript of the 'Witchcraft' manuscript, a history of Cecil Williamson and the Museum of Witchcraft and Magic, a treatise on Cecil Williamson's vision of traditional Witchcraft – the practices and the philosophy of the wayside witches, an account of his meetings with Aleister Crowley and Gerald Gardner, and a controversial account of his witnessing of the birth of 'Wicca'. The book is both a valuable reliquary of practices for the traditional witch, and a resource for folklorists and historians alike; telling the tale of a hitherto largely ignored, but hugely influential episode in modern occult history, and one of the great unsung heroes of the twilight world of folklore and witchcraft.
 304 pages
---
---
More from this collection