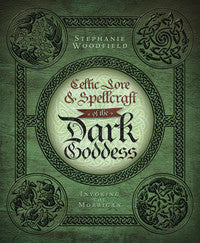 Celtic Lore and Spellcraft of the Dark Goddess: Invoking the Morrigan
Invoke the Morrigan—the Celtic embodiment of the victory, strength, and power of the Divine Feminine—and be transformed by her fierce and magnificent energy. 
In this comprehensive, hands-on guide to Celtic Witchcraft, Stephanie Woodfield invites you to explore the Morrigan's rich history and origins, mythology, and magic. Discover the hidden lessons and spiritual mysteries of the Dark Goddess as you perform guided pathworkings, rituals, and spells compatible with any magical path. Draw on the unique energies of the Morrigan's many expressions—her three main aspects of Macha, Anu, and Badb; the legendary Morgan Le Fay; and her other powerful guises.
---
---
More from this collection