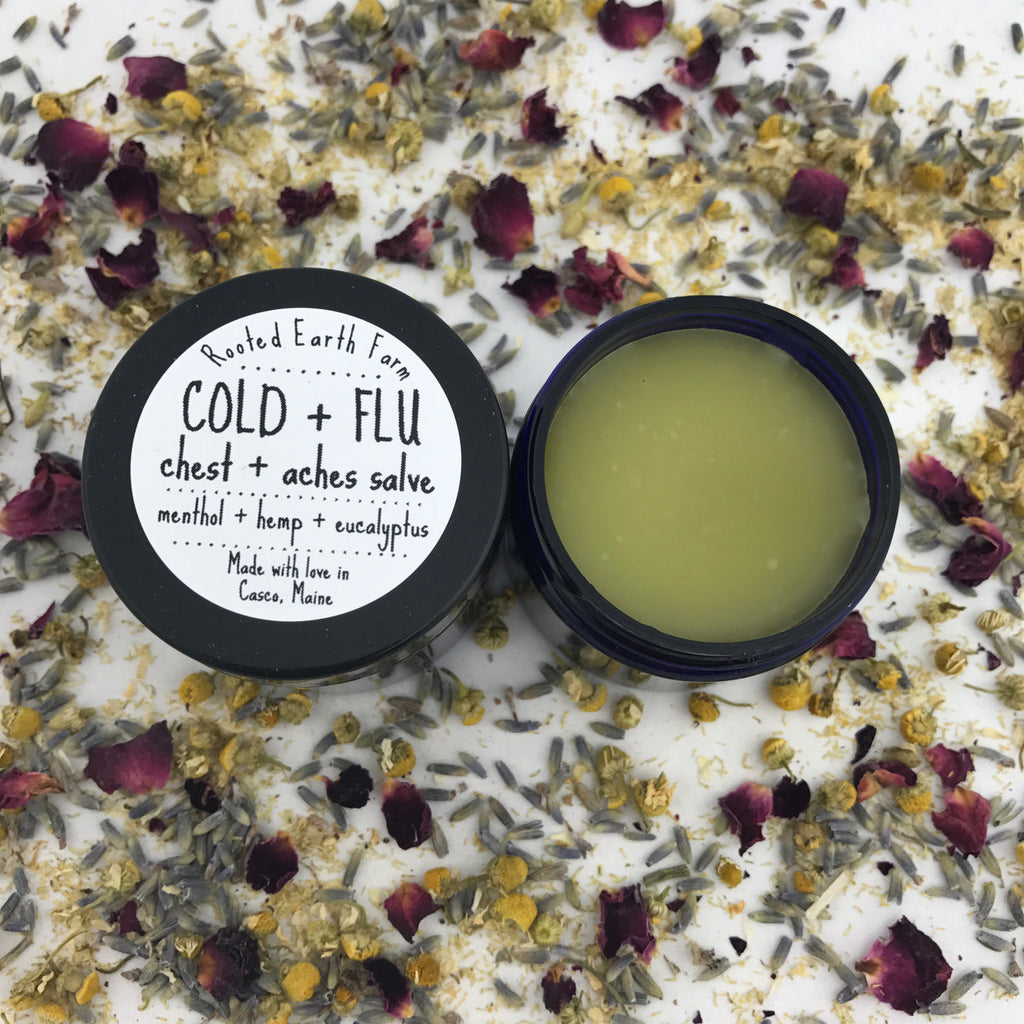 Cold & Flu Salve
This salve is so amazing when you aren't feeling well. You can use it as a chest rub, so you can breathe in the herbs and essential oils to clear up congested respiratory passages. It has a cooling sensation that helps with fevers. Can also be used on sore/achy muscles (from working out or from being sick) because the organic menthol crystals numb your nerves.
Made from organic oils: hemp seed, castor, and olive. I infuse organic herbs into the oils: yarrow, rose petals, echinacea, Oregon grape root, chamomile, and chickweed. After straining I then add organic beeswax and infuse organic menthol crystals and add essential oils of: rosemary, eucalyptus, tea tree, sweet orange & lavender. So soothing to colds & coughs.

Apply to your skin/chest as needed. For use on adults only and children over 12 years of age.
Cobalt blue jar, 4 oz.

From Sara of Rooted Earth Farms -
"I use the finest ingredients I can find for my apothecary products. Organic and local as much as possible. Most of the herbs are grown or wild-crafted on our sustainable farm in Maine. I only use herbs and essential oils to add fragrance – no nasty chemical fragrance oils.
All apothecary products are created in small batches by hand (by me!).
Descriptions and information are for informational purposes only, and are not intended to diagnose, cure, treat, or prevent any disease or illness.
My body care products are all natural and completely safe, however please do a test spot first, and if you have any negative reactions please consult a doctor. Consult a doctor before starting any new supplements, medicines, or herbs."
---
---
More from this collection