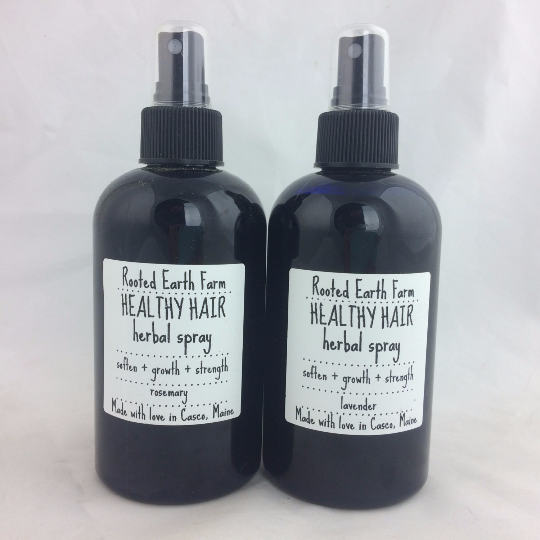 Lavender Healthy Hair Herbal Spray
This spray is so incredible for your hair! I infuse it with herbs that are known to increase growth, strength, and overall health. Aloe vera gel is also added to soften your hair. Plus it makes your hair smell amazing!
Made with aloe vera gel, Maine spring water, organic herbs, and pure essential oils!
Just shake, then spray into damp hair & let air dry or blow dry.
Comes in a big 8 oz cobalt blue spray bottle.
From Sara of Rooted Earth Farms -
"I use the finest ingredients I can find for my body care products. Organic and local as much as possible.
Please note that all body care products are created in small batches by hand (by me!) in an environment that has nuts and nut flours/meals. If you are allergic to nuts or any ingredient in the products, please do not order/use them.
Descriptions and information are not intended to diagnose, cure, treat, or prevent any disease or illness.
Our body care products are all natural and completely safe, however please do a test spot first, and if you have any negative reactions please consult a doctor."
---
---
More from this collection