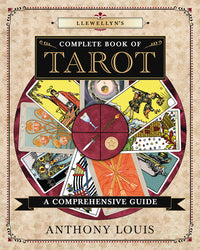 Llewellyn's Complete Book of Tarot: A Comprehensive Guide
Comprehensive and easy to use, Llewellyn's Complete Book of Tarot contains everything you ever wanted to know about tarot. Join Anthony Louis as he explores tarot history, shares card meanings and spreads, and provides detailed guidance that educates and inspires, whether you're a beginner or an advanced reader.

Discover basic reading techniques for a wide variety of systems, including Marseilles, Rider-Waite, and Thoth. Identify the meaning of associations, correspondences, reversals, and dignities, and experience the ways that tarot interacts with astrology and personal spirituality. Combine tarot reading with Kabbalah, numerology, Jungian psychology, journaling, and storytelling while exploring card selection, creativity, tarot ethics, and specialized spreads. Focusing on the use of tarot for insight, empowerment, self-understanding, and fortunetelling, Llewellyn's Complete Book of Tarot provides centuries of accumulated wisdom that will enable you to make optimal use of one of the most powerful spiritual tools ever developed.
336 pages 
8 x 10 x 1 IN
---
---
More from this collection