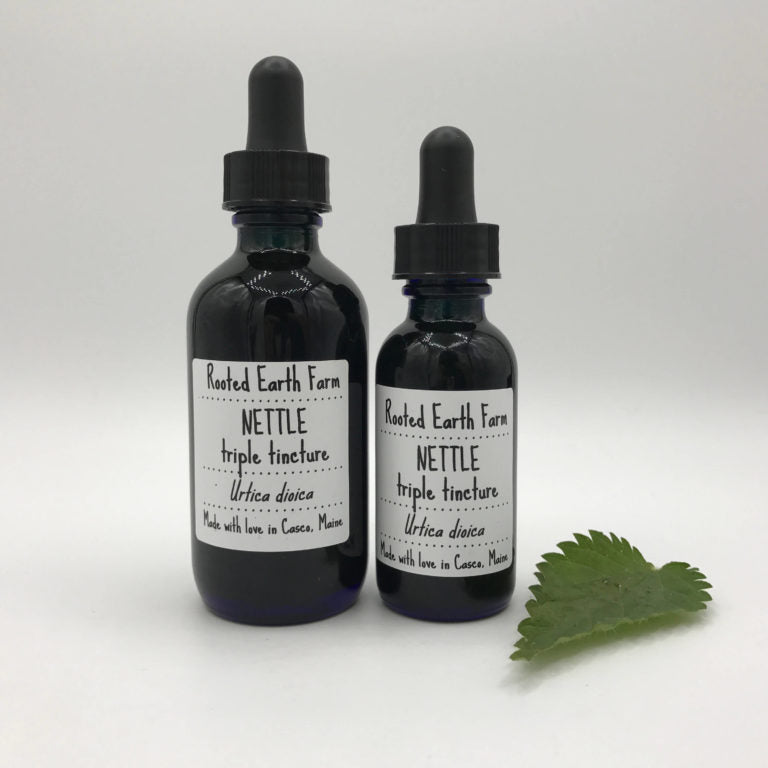 Organic Nettle Tincture
Organic nettle is infused in organic vodka 3 different times in the moonlight for a triple strength tincture. It was infused for a total of 8 months total. The power of the moon's energy magnifies the power of the herb.
Nettle is the one tincture that I believe everyone should take. It's PACKED full of vitamins, minerals and protein. In particular it is high in: selenium, vitamins A, C, D, K, & B, potassium, phosphorus, iron, sulphur (great for immunity), zinc (helps with memory), chlorophyll, chromium, and boron & calcium ( both incredible for bones).
It is denser in vitamins & minerals more than another other plant! It is known to be great for: strengthening your kidneys, seasonal allergies, general nutrition, helping to ease muscle spasms, increasing energy, restful sleep, and much more. It's also incredible helpful for those that has SAD (seasonal affective disorder)
(as a tip, if you make a nettle infusion (strong tea) with fresh or dried plant material, it's incredible to drink yourself but also if you water your plants with it once in awhile they will LOVE all of the natural plant nutrients!!!)
take 30-40 drops, up to 3 times per day.
Comes in a 1 oz cobalt blue glass dropper bottle
Ingredients: organic vodka and organic nettle
From Sara of Rooted Earth Farms -
"I have been studying herbs and creating herbal apothecary items for over 21 years. I create everything with loving intention and healing energy.
I use the finest ingredients I can find for my body care products. Organic and local as much as possible. A lot of the herbs are grown and/or wild crafted from right here on our sustainable farm. I only use herbs and essential oils to add fragrance – no chemical fragrance oils.
All body care and apothecary products are created in small batches by hand (by me!).
Descriptions and information are for informational purposes only and are not intended to diagnose, cure, treat, or prevent any disease or illness. All pregnant women should consult a doctor before using anything new."
---
---
More from this collection