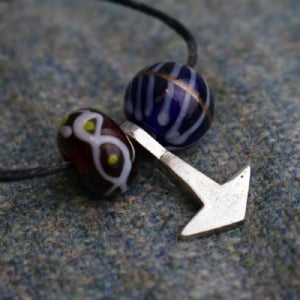 Repton Mjolnir with Glass Beads (Thor's Hammer)
The Repton Hammer is another reproduction Thor's hammer in our already extensive range of Mjolnirs. This one was found at Repton, buried with its owner, who was probably part of the Great Heathen army that camped there over the winter of 874, having already conquered Northumbria and Mercia. It was found hung around it's owners neck, complete with two glass beads. The beads adorning this hammer are a modern take on the original find.



The individual pendant, cast in pewter, weighs 2.5g and its face measures approximately 2.3cm by 3.3cm. This piece has been made in Scotland and comes with a length of waxed cord and two glass beads, perfect for both re-enactment and casual wear.
---
---
More from this collection