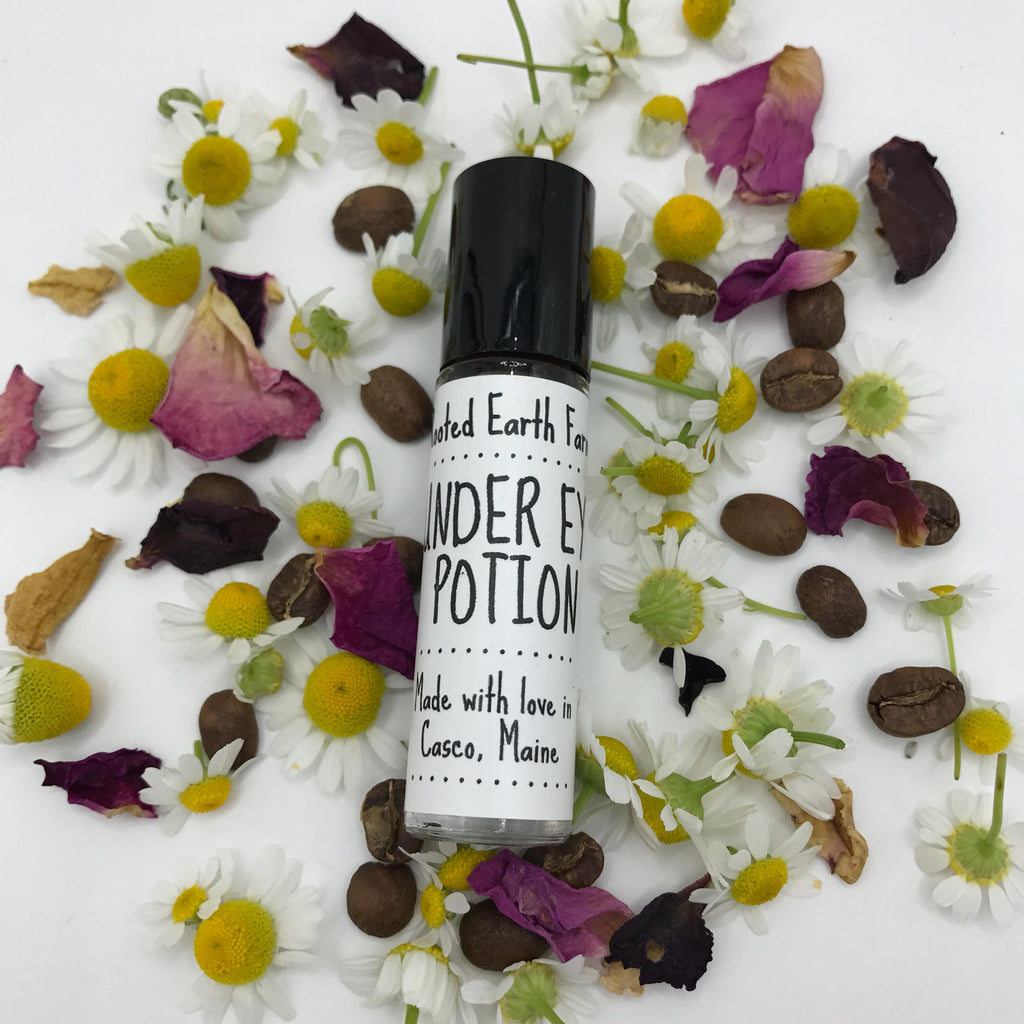 Under Eye Potion
This potion is perfect for reducing dark circles, wrinkles, and discoloration around your eyes.
Sara, of Rooted Earth Farms, infuses: organic Maine roasted coffee, rose petals, green tea, and chamomile into olive oil and aloe vera gel (all organic). She also adds non-GMO vitamin e for it's skin benefits and as a natural preservative.

Comes in a 10ml glass bottle with roller ball for easy application.

To Use: apply to skin around eyes and rub in.

Sara of Rooted Earth Farms has been studying herbs and creating herbal apothecary items for over 21 years. She creates everything with loving intention and healing energy.
Rooted Earth uses the finest ingredients they can find for thieir body care products. ALWAYS ALL NATURAL!!! This product is vegan. Organic, ethically wildcrafted, and local as much as possible. Lots of the herbs are grown on Rooted Earth's sustainable farm in Maine. Only herbs and essential oils are used to add fragrance – no nasty chemical fragrance oils!
Please note that all body care products are created in small batches by hand (by Sara of Rooted Earth Farms) in an environment that has nuts and nut flours/meals. If you are allergic to nuts or any ingredient in the products, please do not order/use them.
Descriptions and information are not intended to diagnose, cure, treat, or prevent any disease or illness.
Rooted Earth body care products are all natural and completely safe, however please do a test spot first, and if you have any negative reactions please consult a doctor.
**All pregnant women must talk to their doctors before using anything containing essential oils.
---
---
More from this collection